A  collectionof Jerry's albums.. Just want to share with everyone since his latest drama, called "Down with Love" was just started airing this month… Love his chemistry with his co-star, Elle Chen… They are so cute together… If they could date, it would be nice…
Jerry for you (2004)
Tracklist:
01. 一公尺 One Meter
02. 做個好情人 Be A Good Lover
03. 記憶拼圖 Memory Pieces
04. 陪襯品 Decoration
05. 想要愛你 I Want To Love You
06. 地心引力 Gravity
07. I Want It Now
08. 隔離 Isolation
09. 忘了自己 Forget Myself
10. Fantasy
Download link: http://www.megaupload.com/?d=AHKY6CG0
I still keep this album in my CD rack.. I was so lucky when my friend in China could buy the authentic CD instead of Chinese pirated CD… I got the day version, that's why I put the poster image is day version…. My cd came with a cute calendar notebook..
Freedom (2009)
Tracklist:
01 Thank You
02 我會很愛妳(SONY WALKMAN 廣告主題曲)(I Will Love You Very Much)
03 在KTV說愛你(韓劇【伊甸園之東】 片頭曲)(Say Love You At KTV)
04 一半(偶像劇【籃球火】片尾曲) (Half)
05 去闖 (To Pursue/To Give Best Shot)
06 多出來的自由 (Extra Freedom)
07 黑咖啡日記 (Black Coffee Diary)
08     Lost Love
09 愚人節 (April Fool's Day)
10 等你回來 (Wait For You To Come Back)
Download link: http://www.megaupload.com/?d=B0TU3JDW
My Secret Love- New & Best Collection 2CDs (2010)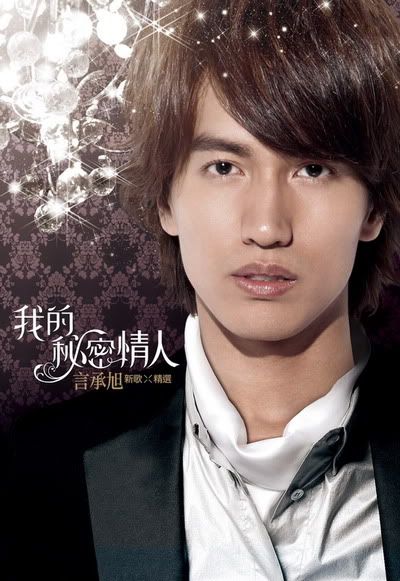 Tracklist:
Disc 1
01. 怕黑 (New)
02. 失寵 (New)
03. 習慣兩個人 (New)
04. 一公尺
05. 在KTV說愛你
06. 記憶拼圖
07. 我沒有辦法離開妳
08. 忘了自己
09. 做個好情人
10. 要定妳
11. 隔離
12. 等你回來
13. Fantasy
14. 一半
Disc 2
01. 你是我唯一的執著
02. 多出來的自由
03. 我會很愛妳
04. 黑咖啡日記
05. 地心引力
06. 只有我
07. I Want It Now
08. 愚人節
09. Lost Love
10. 陪襯品
11. 想要愛妳
12. 去闖
13. 我是真的真的很愛妳
14. Thank You

Download link for 3 new songs: http://www.megaupload.com/?d=1JNH6G3I
Please support artists by purchase CDs from Yesasia.com
http://www.yesasia.com/global/my-secret-love-new-best-selection-2cd/1021882034-0-0-0-en/info.html
[Via http://tpear.wordpress.com]